Travel App Roundup
Technology is here to stay, so why not take advantage?
I never leave home without my smartphone, and now I can't even think about going on a trip without my iPad. So, I want to make sure I've got everything I need to get from home to vacation with no headaches.
Each month I'll feature some travel apps that you can use to make sure you are getting the most out of technology to help you to travel.
Packing
I hate to pack.
My friends hate to pack.
Pretty much everyone hates to pack.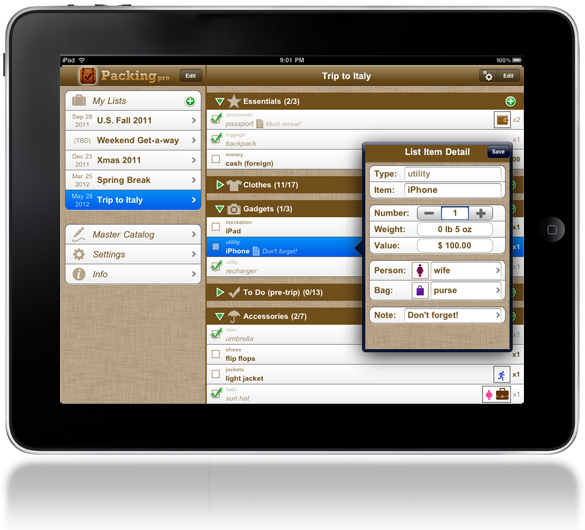 Which is why Packing is a lifesaver. I always end up arriving at my beach vacation forgetting something, usually sunblock, which of course costs $158 a tube at the hotel gift shop.
Packing allows you to create custom packing lists for any trip you go on, from a weekend off with the girls to Vegas, to a romantic mountain hideaway, to Thanksgiving with the family.
Once you create your packing lists, you can then go through and check off everything as you go. Then, it is easy to figure out exactly what hasn't been packed yet, because it's not checked off.
This is also a good app to make you realize just how much stuff you pack with you on vacation. As I get more experienced with travel, the amount of luggage I bring has dramatically decreased. Once you see in list form how much stuff you have listed, maybe, just maybe, you don't need that third pair of flip flops.